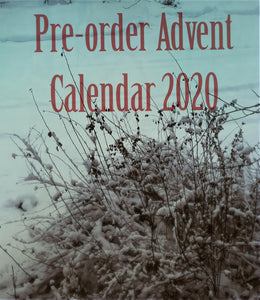 Riverside Studio 1rst Advent Yarn Calendar
I must say it seems odd to be thinking about the winter holidays in the midst of an epic heat wave but there you are, nothing about 2020 is normal. With all our festivals cancelled for the year we feel a little adrift. We are missing connecting with all our wonderful customers, and our fellow yarn enthusiasts.
Over the years we have been asked whether we would do an advent calendar. Some space and time has opened up because of the pandemic we have decided this is the perfect time to try out some new things. So mark your calendar as we will list the pre-order Advent Calendar on July 13th.
We are pretty excited about planning this fun product and hopefully it will become a yearly tradition.
There will be a few different options to choose from. You will be able to choose between 12 or 24 - 20g mini skeins dyed in a unique Riverside Studio gradient. For both options you can choose to add on one 100 gram skein. There will be semi-solids, glazed, multicoloured and speckled yarns in our all time favourite base Supersock. 
Julie is going to get busy and design a beautiful accessory pattern that will make good use of all those mini skeins. I will design and handprint a set of wooly themed gift tags you can use when you are gifting your fibre friends. We will also add a special surprise.
Everything will wrapped and numbered and we will close the orders at the end of September. International orders, including the USA will be shipped by mid-October and domestic orders will ship at the beginning of November.
---
2 comments