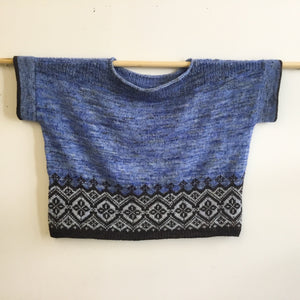 Navelli Tee by Caitlin Hunter
We LOVE the Navelli Tee designed by the talented designer Caitlin Hunter of Boyland Knit Works. It is a quick fun knit that is affordable. How can you beat that? Julie whipped up this blue and brown version in no time flat.
You can purchase the pattern on Ravelry We like it so much that we put together a few different colour combinations that we think would look fabulous. Check out our Yarn Set page to see all the pretty colours.
Happy Knitting! Kathryn
---